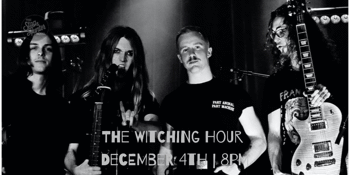 The Stag and Hunter Hotel
The Witching Hour w/ Starcrazy & Alpine White
Star Crazy & Alpine White
The Stag & Hunter Hotel (Mayfield, NSW)
Saturday, 4 December 2021 7:00 pm
With the band's debut single, 'Lay You Down' reaching No. 1 on the Triple J unearthed charts, the band upped the ante and welcomed new member Kyle Fardell, a quirky young Guitarist from Orange. (An even more remote, rural NSW town). He joined Taime to form a formidable driving guitar team.
At this stage, the band realising that something special had come to fruition, they began taking their music around Australia.
Following the release of two more singles, 'Under My Skin' and 'The Ritual' the band again topped the charts with both tracks on Triple J Unearthed. With three consecutive No.1's within 12 months, The Witching Hour ranked 11th most played on Triple J unearthed 2019.