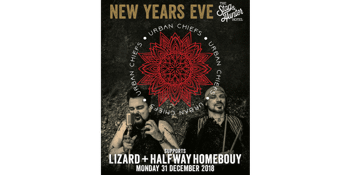 NEW YEARS EVE 2018
The Stag & Hunter Hotel (Mayfield, NSW)
Monday, 31 December 2018 7:30 PM
Party with us to either celebrate or comiserate the year that was 2018. Get you 2019 live music journey underway with three great blues / Stoner rock acts.
LIZARD
Kicking the night off will be the Hawkesbury based legends Lizard. Lizard core is Matt Charnley on Vocals, Guitar & anything in between and Jason Dowse delivering some of the meanest funky bass lines you'll see. Brendan Maguire is drummer extraordinaire who seals the Lizard.Charnley and Dowse were greatly influenced by legends such as Hendrix & Stevie Ray Vaughan, yet have a musical passion from very early blues right to the diversity of Rage Against the Machine and Hed PE. After many years of gigs, recordings and writings their original musical tastes and writings were woven in to their album 'iforbuttadideye'.
HALFWAY HOMEBOUY
Halfway Homebuoy are a Blues/Rock band based on the Central Coast, NSW. The Band have a reputation as outstanding entertainers for their high energy performances and gutsy music. Songs that make you want to stamp your feet, with vocals and lyrics torn straight from the soul.

Lead vocalist and song writer Jack Davison landed in Sydney with Halfway Homebuoy in 2010. Within 2 months of their arrival, they signed a publishing deal at Foghorn Records with Marshall Cullen and have been endorsed by Gibson guitars Australia. Since then, the Band have recorded 2 E.p's, 1 album and 1 live studio album. The tracks from these releases have received radio play all across Australia and Europe and several tracks have been used in award winning extreme sports movies. Halfway Homebuoy are a headline act playing big stages and festivals all over the country. If you get the chance.... these guys are a 'must see' act with a monster live show!
THE URBAN CHEIFS

The Urban Chiefs are a Psyche - Blues - Stoner - Rock band from Tamworth NSW. Blake Saban (Guitars & Vox) and Glendon Finlay (Drumcussion) have been changing people's perspective of what a 'band' should look and sound like since 2009. The pairs huge sound is due to Blakes' unique set up of playing his array of custom guitars through two guitar amps, a bass amp and an acoustic DI signal. Combine this with his powerhouse gravelly vocal stylings and Glendons' tribal and at times frantic, percussive drum style and you have an Australian two piece like no other. There is so much happening on stage that often people are mistaken in thinking that the guys are using samples or pre-recorded material but everything you hear is being produced by the Chiefs as it happens!