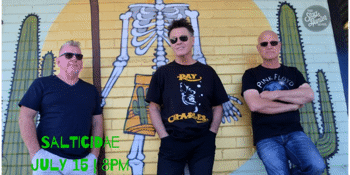 Salticdae
The Stag & Hunter Hotel (Mayfield, NSW)
Saturday, 9 July 2022 7:00 pm
SALTICIDAE (The Salties) are an original rock band, powered by three highly experienced and talented professionals.
Phil Halpin, Dave Clews and Rob McKay each have a rock and roll pedigree going back to the 80's and 90's.
The band's musical stylings are inspired by the great blues and rock icons of the past. The emphasis is on heavy dance grooves and memorable melodies, wrapped in virtuoso performances from each player.
The Salties have been rehearsing and developing its play-list for almost three years. The band has already appeared live at the Entrance Leagues Club with Mick Hart, the Wickham Park Hotel in Newcastle, the Link and Pin with upcoming gigs at the Stag and Hunter, The Civic hotel Sydney to name a few. The Salties are also featured on the Blues Rock channel on Foxtel Music.