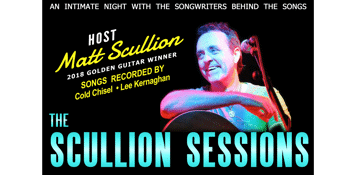 The Scullion Sessions Ft Steve Eales and Mark Wells.
Steve Earles & Mark Wells
The Stag & Hunter Hotel (Mayfield, NSW)
Wednesday, 3 July 2019 7:00 PM
The "Scullion Sessions" are the brain child of award winning Singer/Songwriter Matt Scullion. They've been described as an intimate experience with the Songwriters behind the Songs.

Having lived in Nashville Matt was keen upon his return to start up a "Songwriters In The Round" style of show based on the one's he'd been involved with over in the States.
And thus the "Scullion Sessions" were born and have been running strong for 6 years now.

The shows usually run for 2 hours with Matt and two other Writers taking centre stage. It's 3 stools, 3 Songwriters and a bunch of stories, laughs and tears.