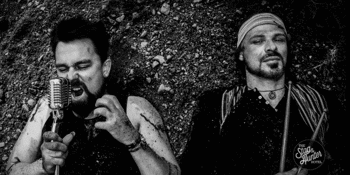 The Urban Chiefs
The Stag & Hunter Hotel (Mayfield, NSW)
Saturday, 31 July 2021 7:00 pm
Hibernation is over and the Chiefs are ready and raring to rock the Stag & Hunter stage once more. With a swag of new tunes and some old favourites, the fella's can't wait to put on their trade mark high energy show! They will he joined by multi instrumentalist and didgeridoo play Craig Atkins currently on his National tour. Lets kick Covid a new one!
The Urban Chiefs are Psyche-Blues, Stoner-Rockers from Tamworth; challenging the norm since 2009. The pairs huge sound is due to a unique blend of instruments combined with percussive grooves and hard hitting, catchy riffs. There is so much happening on stage that often people are mistaken in thinking that the guys are using samples or pre-recorded material but everything you hear is being produced by the Chiefs as it happens!
"...a cracking slab of Psyche-Blues!"
Samuel J.Fell - RHYTHM MAGAZINE AUSTRALIA
"A huge sound for just two guys!"
Peter Fricker - SYDNEY BLUES & ROOTS FESTIVAL
This hard hitting two-piece have been making a name for themselves all up and down the East Coast of Australia for the past 10 years, playing festivals and venues to receptive audiences from Cairns down to Tassie and everywhere in between. In this short time they have achieved a great deal gaining Top 5 Blues and Roots Artist in the 2013 MUSICOZ Australian Independent Music Awards. Second release 'City of Light' debuted at #18 in the Australian Blues & Roots Airplay Charts and the band have had various songs aired on Triple J and Double J along with film clips aired on Rage.