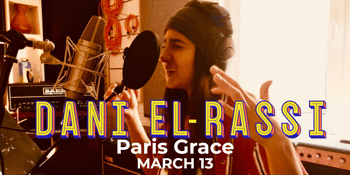 Dani El-Rassi
Paris Grace
The Stag & Hunter Hotel (Mayfield, NSW)
Saturday, 13 March 2021 7:00 pm
Singer, Songwriter and Multi-Instrumentalist Dani El-Rassi, known for her big voice and emotive songwriting, boasts a debut EP 'The Best Is Yet To Come' under her belt and a sold out a string of shows across NSW in 2019, including her sold out EP launch at Sydney's Oxford Art Factory. Dani proceeded to take her band on a tour of the country, playing shows all over Australia. Dani has spent 2021 writing and collaborating with other artists, and celebrated with a sold-out run of shows at Sydney's Camelot Lounge and Newcastle's Stag and Hunter hotel.
Having performed in over 10 countries around the world, Dani has been invited to share the stage with Atlantic-Records artist Ben Abraham, Catherine Britt, Hollie Col and many others. With a variety of Festivals to her name, including Tamworth Country Music, Nimbin Blues n Roots, and Melbourne-based Soda Fest, Dani's newest single 'dead to me' displays a shift in her sound. The track attracted glowing reviews from Happy Mag TV and extensive radio play. With no slowing down in sight, Dani's new single 'this is what it means to be human' was played on over 150 radio stations across Aus and NZ.
Dani's pop-folk-ballad-sometimes-country sound is evolving rapidly, drawing influence from folk and pop artists together with pop-rock and alt-indie-rock bands from around the world. Think Missy Higgins, Gordi Music, with influences drawing from Ruston Kelly and others.