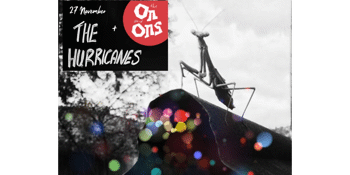 The Stag and Hunter
The Hurricanes
The On snd Ons
The Stag & Hunter Hotel (Mayfield, NSW)
Saturday, 27 November 2021 7:00 pm
Back For More is The On and Ons new 12-track album on Citadel Records. It follows on from the band's well received previous releases - "Calling" (2015), "Welcome Aboard" (2017), and "Menacing Smile" - (mini-album 2020). The songs are written by Glenn Morris (lead vocals/guitar) and the band is rounded out with his brother Brian Morris on drums/vocals, and Clyde Bramley (bass/vocals). These guys have had plenty of past experience with bands like Kings of the Sun, Paul Collins Beat, and Hoodoo Gurus.

The Hurricanes new EP "Our World Away" available at the gig..

The Hurricanes have been kicking up a storm since 2012. Harry, Rob, Ian and Shame are forecast to again blow the roof off The Stag and Hunter on the 27th November , Chiming, grinding, guitar interplay mated with flowing bass lines and precise, punchy beats adorn these original tunes, sung with passion, harmony and joyful exuberance. The sounds of Dick Dale-esque surf guitar on steroids, the thundering, chanting, foot stomping 70s glam rock of T Rex and Slade and the gritty groove of classic Rolling Stones combine to create a truly unique expression of everything The Hurricanes love about rock'n'roll. They may well throw in a couple of 60s rock classics too...