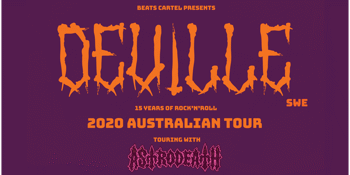 CANCELLED - Deville (swe) Cancelled
Astrodeath
The Stag & Hunter Hotel (Mayfield, NSW)
Friday, 3 April 2020 7:00 PM
Swedish riff lords Deville make their first trip to Australia next year having today announced plans for an extensive national tour on the back of multiple festival appearances.

Born in 2004, Deville have developed through a haze of Rock, Stoner and Metal sounds, creating something unique which has seen them support the likes of Red Fang, Torche, Fu Manchu, Truckfighters and tour the US, UK and Europe many times over, playing a host of the world's best venues and festivals.

"Offering clever dynamics and evincing broader emotions, Sweden's Deville are well above the mediocre Orange Cabinet-abusing masses out there." - BLABBERMOUTH

With albums signed to Heavy Psych Sounds, Buzzville Records, Small Stone Recordsand Sweden's Fuzzorama Records, the band have given 15 years of service to Rock'n'Roll, a feat rarely realised in today's music business. This tour will celebrate the milestone.

"Their latest collection, "Pigs with Gods", will be the album that carries them through it (the 15 yr anniversary) and is another forward step in their ongoing sonic development." THE OBELISK

March/April 2020 sees the Swedes travel to Australia for their first ever tour of the country. Presented by Beats Cartel, the tour racks up eight dates in four states/territories and will see the band play with the likes of Germany's Kadavar and appear at annual boutique guitar fest Mojo Burning in Brisbane along with new offering Germanium Dazein Perth.

Lead singer Andreas Bengtsson says of the upcoming tour "Touring Australia for the first time is of course a huge thing for us and doing it when the band is turning 15 years old makes it even better. We're thrilled to share the stage during this run with bands such as Kadavar, Nebula and Temples and not to forget our touring partners Astrodeath. This will be a good one, hope to see you all at a show."

In support of the tour nationally are high energy Sydney heavy duo Astrodeath, who have themselves had an amazing drop into the scene having supported the likes of 1000mods, Nick Oliveri and Batpiss along with also landing festival slots at Mojo Burning (QLD) and Germanium Daze (WA) in what is a very short time at the fray.

Catch Deville this Autumn, making their way across the country coast to coast for what will be a fun and energetic display of European hard Rock.