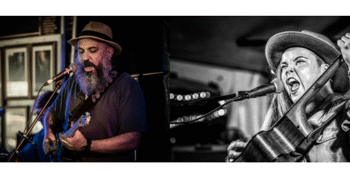 Minnie Marks & Frank Sultana
The Stag & Hunter Hotel (Mayfield, NSW)
Friday, 31 May 2019 7:00 pm
MINNIE MARKS
With an insane talent that's out of control playing what she calls dirty sweet rock & roll this young singer/songwriter/guitarist/multi instrumentalist has been eating up girl bands since 1994.
Minnie Marks is not just some blazingly electrified acoustic guitar playing freak of nature, but also a rare and triple threat: Singer, songwriter and multi-instrumentalist. Be warned, her show will take you on a dizzying, riff rock rollercoaster ride with songs written over the past years of her musical journey around the world.

This bombshell explodes on stage pushing the limits of her guitar, vocals and performance, kicking arse and playing to packed out shows, leaving little doubt everybody is touting her as 'the next big thing'.

Frank Sultana

A late-night set in an inner-city bar, or a festival stage, solo or fronting his band, chances are that this 'new' bluesman has played somewhere in your neck of the woods in the last 5 years.
Frank Sultana tells stories of loss, betrayal and revenge, set in imaginary backwater towns inhabited by strangely likeable yet shady characters. He delivers his songs with dark hypnotic guitar parts that are carefully layered with his raw whiskey drenched voice.
If you like your music raw and real, dark and uplifting, then check out Frank Sultana. You may have found your new favourite artist.