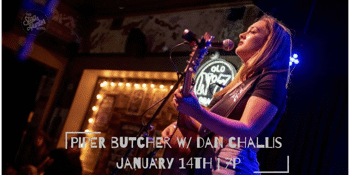 The Stag and Hunter Hotel
Piper Butcher
Dan Challis
The Stag & Hunter Hotel (Mayfield, NSW)
Friday, 14 January 2022 7:00 PM
Piper is Australian, she's independent and she's very, very good. She's here to stay!
Ready to take the world by storm, Piper Butcher released her EP "September" on the dawn of the month itself, with the outstanding success of #1 in the Alternative Album iTunes charts and #2 in the All Genre Album iTunes charts; it comes with the assurance and confidence that marks her as an impressive new artist with a long career in front of her.
With Americana meets rock 'n' roll influences from the likes of Lukas Nelson, Chris Stapleton and Stevie Nicks, any performance of Piper's gives an insight into her unique sound and fresh style.

South-coast singer/songwriter Dan Challis melds lyrically-driven acoustic folk music, with a story-telling focus. His songs centre on the lived-experience, and befit his troubadour ethos; living out the very life he tells stories about through his music.

Dan has captivated audiences both here and in North America, where he spent the last 4 years up until 2020. It was there he penned the songs for his most recent body of work, 'No Lonely Road' (2020); his sophomore album. The music has been described as "rich, authentic acoustic folk... (that) should make you feel something raw and timeless."

Dan follows the classic model of 'stomping the pavement' when it comes to getting his music out there; being known for his willingness to tour, especially in regional areas, and bring his love for his craft direct to the people; no matter what the venue, pub, club or local RSL.