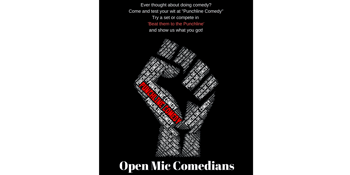 Punchline Comedy Hosted by Sam Kissajukian
Sam Kissajukian
The Stag & Hunter Hotel (Mayfield, NSW)
Wednesday, 20 February 2019 7:00 pm
Ever thought about trying your hand at comedy?
Try a set or come to compete in
'Beat them to the punchline'
where you take a famous punchline and show us how you would've
written it!

This month's MC is Marty Bright!
"Marty Bright has been bringing his unique brand of observational and physical comedy to stages around the country and the world for the past 6 years.
He has performed at the top comedy rooms around the country including Sydney's Comedy Store, Perth's Comedy Lounge and Brisbane's Sit Down Comedy Club.
Marty has also been part of the Melbourne International Comedy Festival and the Sydney Comedy Festival where was chosen for the prestigious FRESH, Breakout and Regional Roadshow Showcase tours.
Bright has graced stages across the U.S, Canada and NZ including LA's Comedy Store, Caroline's in NYC and multiple reputable clubs around North America."

Punchline Comedy is a monthly comedy open mic where you can try out jokes onstage or just come to enjoy comedy.
As well as providing a stage for standup sets we will also have a section aimed at inspiring comedy writers or audience members to get involved called "Beat them to the Punchline". Look below for more information on getting involved.