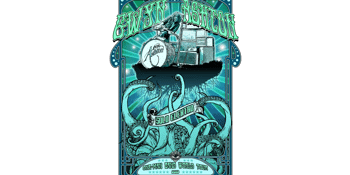 Gwyn Ashton
The Stag & Hunter Hotel (Mayfield, NSW)
Saturday, 9 February 2019 7:00 pm
Toting a hot new album and smashing stages worldwide, Aussie axeman Gwyn Ashton has reinvented himself as a one-man progressive alt. blues band and is now on his current solo elektro tour.
In two hours Ashton takes us on an eclectic mesmerising musical journey of his own original material plus some choice
covers; from acoustic roots, blues and world music to a set of electric hard-edged rockin' blues, 60s-style fuzz garage rock
and Brit-voiced psychedelia on an array of instruments, including his custom-made Italian Liutart signature model guitar.
With no backing tracks or setlist Ashton spontaneously draws his set mostly from eight released studio albums. His lyrical
songwriting and musical dexterity on resonator and lap slide guitars mixed with frenetic electric slide, heavy bass lines, hardcore kick drum beats and lo-fi microphone vocals makes him one of the most unique contemporary artists on the
scene today.
He's been ranked at number 3 in Guitar Part magazine's Guitarist of The Year after Jeff Beck and Gary Moore and praised
by the likes of Robert Plant, Johnny Winter and Deep Purple's Don Airey, who has played on two of Ashton's albums.
Hubert Sumlin, Canned Heat, Walter Trout and Mick Fleetwood have all invited him to play with them onstage.
He's opened for BB King, Status Quo, Mick Taylor, Buddy Guy, Rory Gallagher, Ray Charles, Junior Wells and many others
and appears at festivals and clubs in the UK, Brazil, Malta, Australia and all over Europe.