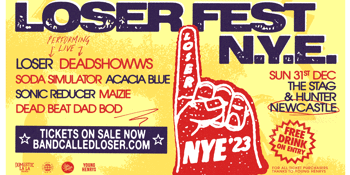 Domestic La La, New World Artists & The Stag and Hunter Hotel
Loserfest
The Stag & Hunter Hotel (Mayfield, NSW)
Sunday, 31 December 2023 5:00 pm
LOSER
Dubbed a melbourne punk 'supergroup' upon formation, LOSER started life in 2018 with members Tim Maxwell (ex Apart From This), Craig Selak (ex The Bennies) and Chris Cowburn (ex The Smith Street Band).

After gaining full triple J rotation with their first ever single 'Loser' the band were quickly snapped up by James Tidswell (Violent Soho) and his label Domestic La La records, which they released their debut EP 'Restless Noise' through later that year.
Following stints supporting Violent Soho, Tired Lion, Ruby Fields and appearances at Festivals such as Falls the band took their momentum back to the studio to record their debut full length album 'Mindless Joy' (released in Feb 2020).
Unable to tour due to covid lockdowns, the album allowed the band's fanbase to continue growing while off the road, and earned them a coveted long list nomination for the Australian Music Prize in 2020.
Undeterred by the continued inability to tour, the band used their brief stints in-between lockdowns to record their second album 'All The Rage' released in Sept 2021. The album further cemented LOSER as an Alt-Rock band to watch, with two lead singles 'On The Edge' and 'Skyward' both garnering full rotation on triple J, an AIR AWARDS nomination for 'Punk Album Of The Year' and a receiving a slew of compliments from NME, Rolling Stone, Australian Guitar Magazine and more.
Deadshowws
Deadshowws are even blends of self betterment and self deprication, smoothed over with an anthemic energy that brings gig goers back time and time again. Their mix of overdriven power chords and delicate ambient lead lines prove to create a unique experience for everyone. Bringing together a solid blend of influences including Violent Soho, Narrow Head and Pandamic, they want to continue to bring their music to new audiences and have a positive effect on people's lives
Following a massive 2022 which saw them embark on two headline East Coast tours, as well as supports alongside Spiderbait, Dear Seattle, Raave Tapes and Bakers Eddy, and a slot on December's Rolling Sets festival, Deadshowws are gearing up for another huge year.
Having already played a slew of shows in 2023, including shows with British India, Ocean Grove and a national tour with Dear Seattle, the band have some brand new songs on the horizon, as well as two headline tours planned before the year is over.
Soda Simulator
Defining themselves as a genreless collective, Soda Simulator are perplexing, puzzling and mysterious. Hailing from the Central Coast of NSW, this enigmatic quartet consists of mates Bryce Neal, Ebonee Nasa, Eden Webb and Mackenzie Hunter. Playing soulful synths, heavy riffs and surfy jams, Soda Simulator are coming to a pub near you.
Having played several sold out shows across the Central Coast, and playing with bands such as Class Clown, Deadshowws and The Waxfinz, this quartet just want to play music and have fun doing it. The band are currently working on their debut album and are looking forward to taking it on the road when they can.

R.U.B
COMBATIVE FEMME DIY PUNK

Acacia Blue
Acacia Blue is a 5 piece Indie Pop Rock band originally formed in a small garage in Newcastle NSW.

Sonic Reducer
Sonic Reducer are a four-piece punk outfit bringing powerful and cathartic music to stages across Australia. For the past year, the band has been carving out a space for themselves by putting on intense live shows and developing a following out of their home in Canberra. Their debut single "ONE OF THE LADS" is an antidote to the toxic and macho arena of contemporary Australian culture. In a world of Sticky Fingers merch and corduroy caps, Sonic Reducer are a refreshing dose of vulnerability played at a high volume.

Dead Beat Dad Bod
4 out of towners DEAD BEAT DAD BOD as they have come to be known are slingin tunes of a diverse range of genres (or so they like to think) and are soon to be yelling at a pub near YOU. Cruising off their brand new single "TUFF", the lads are exploding out of the gate in a post hardcore frenzy. Have a little boogie.