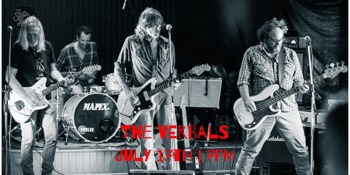 The Verbals w/ The Autumn Hearts
The Stag & Hunter Hotel (Mayfield, NSW)
Sunday, 17 July 2022 7:00 pm
The Verbals are a local Lismore rock band, made up of players from a swag of the best Northern Rivers, even New South Wales, rock and roll outfits.
Frontman Mick Daley is founding member and frontman of The Re-Mains, formed in Nimbin in 2002, who have toured every rodeo, outback pub and inner city dive in Australia, releasing eight killer albums along the way. Three massive tours of Canada and a huge run through Europe sealed the deal for these country rock and roll heavyweights.
Mick co-writes with Steve Reynolds, veteran of 80's Coffs boyband superheroes Your Fanatics and guitarist in Zee Robots and countless Lismore bands. Darren Bridge has played bass in The Re-Mains, local punk rockers Loose and guitar in his own band Birdbrain. Mat Akehurst on drums is more from the Mullumbimby side of the hills and plays with the likes of Mark Heazlett and Cheyne Murphy.

The band has a swag of spanking new rock songs destined for an almost complete album that are being played all over NSW. Touring with Autumn Hearts in July.