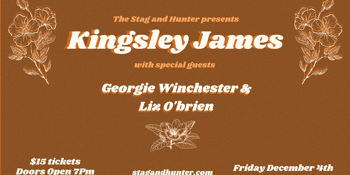 Kingsley James
Georgie Winchester & Liz Obrien
The Stag & Hunter Hotel (Mayfield, NSW)
Friday, 4 December 2020 7:00 pm
After a lifetime of experimenting with music and instruments Maitland singer-songwriter Kingsley James started to share his art with his local community in late 2017.

In that short time, he has become a regular in the music scene across the Hunter, as well as visiting other spots in NSW supporting acts including Tori Forsyth, Johnston City, Runaway Mornings and Novocastrian surf-rock band Dyer Maker. Also playing Keyboard in Johnston City Kingsley became a more interested in the piano and not just guitar and voice.

Kingsley's dulcet sound marries tones of earthiness with elements of soul, folk and blues - powered by honest and vulnerable lyrics derived from the experiences of his everyday. Inspired by the early sounds of Marvin Gaye and Elvis , Kingsley's true genre is soul itself, reaching for something more then just the sounds but a feeling of what it brings. His other main influences are Jim James, Marlon Williams, and of course Fleet Foxes.

He released his debut single "You and I" in mid 2019, he set out on a single tour playing around cities such as Byron Bay, Thirroul, Sydney, Canberra, Maroochydore, Mullumbimby, Newcastle and of course Maitland.

As his interest grew more and more into recording and mixing he followed his music heroes and self produced everything he did. Taking up drums in early 2020 his multi instrumental skills grew and led him to recording his second single" Wondering" now out as of June the 5th. Kingsley is now working on his debut album "Between Transitions" coming out mid 2021.