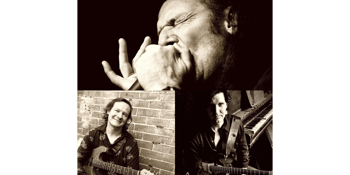 Simon Kinny Lewis Band
with Andy Just (USA) & Darren Jack
The Stag & Hunter Hotel (Mayfield, NSW)
Sunday, 10 May 2020 6:00 PM
Simon Kinny-Lewis Band with Andy Just (USA) and Darren Jack.
Simon Kinny-Lewis takes the audience with him on a seismic journey of compelling, blues guitar – along with a voice that Steve Lukather (Toto, Michael Jackson), describes as being similar to American blues star Joe Bonamassa.
Multiple award-winning Blues artist Darren Jack has been electrifying audiences with his signature powerhouse Rock 'n' Blues and original music for the last twenty years. Jack has taken out 5 Australian Blues Music Awards and has won the Sydney Blues Challenge twice,
In the finest of West Coast blues harmonica traditions, Andy Just (USA) has been thrilling audiences internationally with his explosive performances. His sound is extremely powerful, and innovative, which has been honed by many years of playing, and touring. Andy is well known in Europe and Australia where he often entertains thousands at large blues festivals.