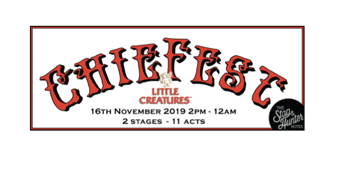 Little Creatures
Chiefest 2019
Urban Chiefs, Halfway Homebuoy, Filthy Lucre, Salt & Steel, Lizard, New Black Shades, Darryl James, Chris Mathews, Jimmy Watts, The Lil Corn Holes & Pop Standen
The Stag & Hunter Hotel (Mayfield, NSW)
Saturday, 16 November 2019 2:00 pm
The inaugural Chiefest is a celebration of the ten year anniversary of the Urban Chiefs, who have made their mark on the Australian independent music scene. Over this time they have formed many friendships in the industry and Chiefest will host a small taste of some of the artists that have had an impact on the band.
The Stag & Hunter Hotel in Mayfield will host the event on the 16th of November 2019. It will be a Karma entry event which means that people can pay what they feel or pay what they can. If that means people can only pay with their presence then that's cool as well.
There are 11 artists from 4 states who will perform over two stages from 2pm-12am boasting an array of genres, there is something for nearly every musical taste.