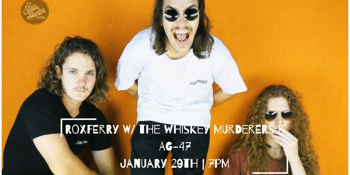 The Stag and Hunter Hotel
Roxferry w/ Punctured & AG-47
The Stag & Hunter Hotel (Mayfield, NSW)
Saturday, 29 January 2022 7:00 pm
It's the Port Mac Attack!
Lead by" Roxferry," who are no strangers to the Newcastle music scene, alongside local rockers "Punctured" and hip hop/ rock friends "A.g (47)".

Off the back of their latest single 'SLOB', "Roxferry" is a hard-hitting unit. Taking influence from bands such as Metallica, IDLES and Royal Blood, these boys turn it up to 11 and take no prisoners!

"Punctured" is an original Newcastle hard rock 3 piece who have been playing the local circuit for 3 years now, whilst "A.g (47)" is a group of mates that combine rapping virtuosic with powerful, aggressive sounds.

This is show for those who like it loud and fast!