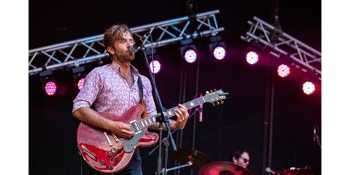 Owen Campbell & The Cosmic People
The Stag & Hunter Hotel (Mayfield, NSW)
Friday, 29 January 2021 7:00 pm
OWEN CAMPBELL LIVE ALBUM RECORDING & SHOW AT THE STAG!
Do lockdowns and forced cancelations mean the end of modern music culture and our careers? Collectively we decided that no matter what, we were determined for that NOT to happen. We made a choice to keep on writing and by hook or by crook keep creating and not allow culture and music to be a casualty of lockdowns.
Which is why we have decided to create a unique experiences for us and our fans alike and record a brand new album LIVE at one of our favourite venues, right here in Newcastle, The Stag and Hunter.
We always separate these experiences/processes and after all the social isolation, my band and I (and I think every human on the planet!) are in need of love, community and the enjoyment of humanity without fear. What better way to do it then capture an album in the company of people that want to hear it! Come and join the fun!
Owen brings a thumping oceanic-like repertoire to performances all over the world. His smouldering guitar work runs from bluesy riffs and soulful finger-picking to lap steel guitar solos using a shot glass slide. His gritty caramel vocals makes this blues maven a global favourite.