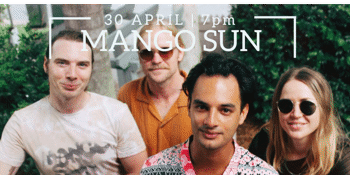 Mango Sun
Boycott / Hey Jan
The Stag & Hunter Hotel (Mayfield, NSW)
Friday, 30 April 2021 7:00 PM
MANGO SUN venture into their first inter-state tour promoting their smooth movin', disco groovin', cheek clappin', hand slappin', blues soothing' new single TUAN GO.

"Tuan Go" is definitely our favourite song we've written" says the band collectively.

Sharing the stage with some stellar local acts Mango Sun are kicking off April 15th with 3 Sydney dates, April 22nd with 3 Melbourne dates and wrapping up in Newcastle April 30th.