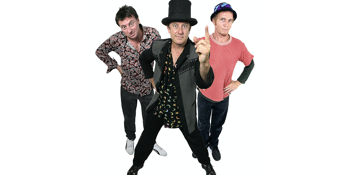 Floyd Vincent and the Temple Dogs
The Stag & Hunter Hotel (Mayfield, NSW)
Saturday, 18 April 2020 7:00 PM
One of Australia's most unique and enduring acts Floyd Vincent and the Temple Dogs return to Newcastle for a show at the Stag and Hunter Hotel Sat 18 April.
They will be tearing it up with their infectious high energy blend of World, Latin, Art Rock and Pop. As a live act they have a reputation for taking no prisoners and play every show like it might be their last.
Newcastle has always been a stronghold for them and over the past 30 years the band have played countless shows in the region. So many in fact that many thought they were a local Newcastle band.
These next shows mark the return of their long-time Drummer Dave Marsalis who has been out of action for 9 months due to heart surgery. The show will feature some new tunes written over the xmas period and some old favourites that have not been in the set since Dave had some time out.
Floyd has also recently reconnected with his old band John Paul Young and the Allstar band. He was a member for 5 years back in the 80's and is looking forward to doing some shows with them later this year and a national tour in 2021.