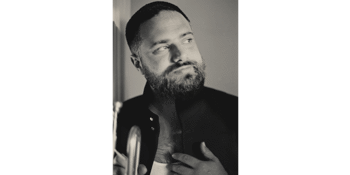 Harry James Angus 'New Bright Century' Tour
The Stag & Hunter Hotel (Mayfield, NSW)
Friday, 9 February 2024 7:00 PM

New Bright Century! is the first release from Harry James Angus since finishing up his 20-year-tenure with The Cat Empire. Like a sonic firework show, this song takes us back to a very specific time; ten seconds to midnight, December 31st, 1999. Is the world about to fall apart? A young man on the cusp of adulthood, is dancing in the mud at a festival. The prevailing feeling of optimism and endless possibilities is tempered by the whispered angst about an instant Y2K bug Armageddon.

This is the first single from an upcoming record that takes all the magic, weirdness, fireworks, and live energy that Angus is known for into a darker, more surreal universe.

Performing in his juggernaut duo with collaborator Freyja Hooper, Angus takes the reins of a new musical era in which he stops at nothing to create colourful and riotous sound. Come and hear new music, some chronic improvisation, and witness the re-emergence of one of Australia's most exciting, shapeshifting, and deeply felt performers.