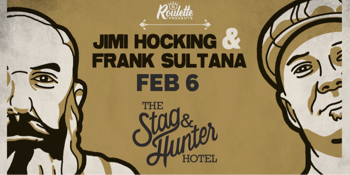 Blues Roulette Ft Jimi Hocking, Frank Sultana & Ben Wicks
The Stag & Hunter Hotel (Mayfield, NSW)
Saturday, 6 February 2021 7:00 PM
BLUES ROULETTE DOUBLES DOWN
Lockdowns and venue restrictions didn't stop Blues Roulette from delivering their brand of spontaneous performances by Australia's finest Blues artists.
Through 2020, the Melbourne based rhythm section released live EP's with Frank Sultana and Jimi Hocking that ranked highly on the Australian Blues and Roots Playlist Chart.
With 2020 almost behind us, both Sultana and Hocking will be joining Blues Roulette for an interstate tour to celebrate both releases.
The tour promises to give even the most devoted fans of both artists a unique, one night only performance.
Since returning to live shows, every Blues Roulette show has sold out so be sure to grab your tickets quickly from
bluesroulette.com