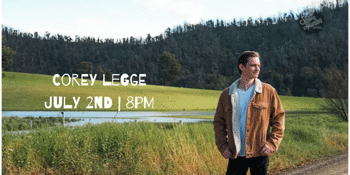 Corey Legge 'Your Blue Eyes' Single Tour
The Stag & Hunter Hotel (Mayfield, NSW)
Saturday, 2 July 2022 7:00 pm
Originally from Bega (NSW), Wollongong-based singer-songwriter Corey Legge releases his brand new single 'Your Blue Eyes' on Friday 17th June 2022, via Good Stem Records (MGM). Recorded at Love Hz Studios in Sydney NSW with award-winning producer Matt Fell, 'Your Blue Eyes' is the fourth single from Corey's third album 'What Now?'. Featuring Corey's smooth vocal delivery, soothing slide guitar and feel-good grooves, this song will have you smiling from ear to ear. If you love upbeat roots-rock, pop and blues in the vein of Ben Harper, this catchy song is definitely for you.

Corey Legge will be launching 'Your Blue Eyes' across NSW and SA in July 2022, including The Stag & Hunter Hotel in Mayfield (Newcastle, NSW) on Saturday 2nd July. Don't miss Corey's 4-piece alt-country/rock band in action, performing songs from Corey's three albums and a handful of covers by acts such as Chris Stapleton and Tyler Childers.

Tickets $15 + BF pre-sale or $20 on the door. Doors open 8pm with opening act from 8:30pm and Corey's band from 9:30pm onwards.