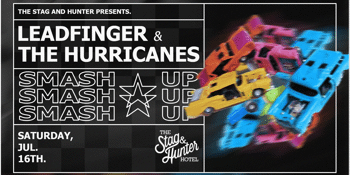 Leadfinger & The Hurricanes
The Stag & Hunter Hotel (Mayfield, NSW)
Saturday, 16 July 2022 8:00 pm
This July 16…Prepare to take a wild rock'n'roll ride as two of the east coast's premier purveyors of fine, fiery and frenetic rock deliver a feast on the Stag stage from 8 till late - and we just can't wait!

Stag regulars The Hurricanes will dish out the mighty, meaty maelstrom we all know and love - original tunes channeling all the greats of glam-punk-psych-garage-abilly and featuring their blistering

new release - 'Riverside' - written by bassist Rob 'The Colonel' Hogan.

Leadfinger, our southern cousins from that other steel city down below, are touring in support of their fab new album, 'Silver and Black', and they're hungry...ravenous for rock and raring to roll…their

sound and their swagger will satisfy your soul!

So get on some tickets! You know that you wanna! For the'Canes and Leadfinger - before they're all goner!