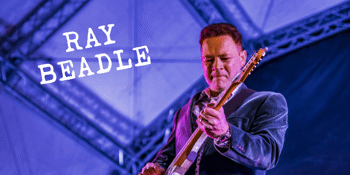 The Stag and Hunter
Ray Beadle
The Stag & Hunter Hotel (Mayfield, NSW)
Saturday, 19 February 2022 7:00 pm
Ray's guitar and vocal styles evoke numerous blues legends, whilst concocting a breathtaking style all of his own. It is not by chance that Ray has become a favourite amongst Australian blues and music fans. An exhilarating guitarist, an enthralling singer-songwriter, and an extremely talented performer, Ray was awarded Best Album, Best Song, and Best Male Artist in the Chain Blues Awards.
Ray Beadle is the genuine article, his music comes deep from the heart and soul, stirring emotions in people with his guitar genius. Ray's music is rich with a deep history of the Blues; Rich from 20 years of experiences garnered from performing Nationally and Internationally; and rich from a deep understanding of his instrument and how to make it stir something within the listener. He knows that's what the Blues is about. Ray's life as a musician started when he was just 9, and for the next 20 years, Ray has played with and learnt from the best, including many years spent performing and recording with the Foreday Riders; (commonly referred to as the 'University of the Blues').

Ray has shared the stage with many great Australian and International artists and has thrilled countless festival audiences. A three month residency with the house band in BB King's Club in Memphis, as well as several Southern Blues festivals, were all defining moments during Ray's three tours to the USA.

Following his return from Memphis USA where he placed top 8 in the prestigious International Blues Challenge, Sydney-based award-winning guitarist Ray Beadle released his first album in 7 years in the form of The 301 Live Session. Featuring Ray Beadle on guitar & vocals, Jonathan Zwartz on double bass and Andrew Dickeson on snare & brushes, The 301 Live Session saw the trio hit Studios 301 in March 2020 to record the 9-track album. Recorded and produced by Stefan Du Rant, mastered by 301's Steve Smart and executively produced by Geoff Trio & Ron Haryanto, the result is a slick collection of selected Beadle originals and legendary blues numbers (covering the likes of Robert Johnson, J.B. Lenoir, Louis Jordan, L.J. Welch, Joseph Perkins Greene, Muddy Waters and J. Smith).