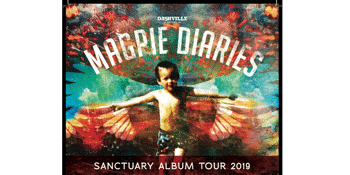 The Stag & Hunter Hotel (Mayfield, NSW)
Thursday, 31 January 2019 7:00 PM
The band title and songs centre around the unique mind of singer-songwriter and Dashville founder Matt 'Magpie' Johnston.
Matt committed to being a resourceful trojan hosting music festivals in his parents front yard since 2004, had somehow acquired a working pseudonym as the Magpie, due to his nature of swooping in on anything tangible that would potentially provide service to the festival site.
In the winter of 2012, after the sudden tragic passing of a close friend, Johnston began the Magpie Diaries project as a way of coming to terms with the loss. The emotional journey led him to revisit past musical escapades and written memoirs, where he pieced memories together in order to play a special solo show at his favourite pub in the world, the Junkyard.
Fast forward to July 2018, together with his wife Jessica on drums and vocals, national treasure Lyle Dennis on lead guitar, Chris Dale on bass and special guest Cassie Bofinger on tenor saxophone, the band known as Magpie Diaries are excited about the prospects of touring the east coast of Australia throughout July and August in support of this first official release.