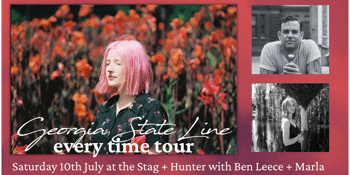 Stag and Hunter Hotel
Georgia State Line
Ben Leece and Left of the Dial and Marla
The Stag & Hunter Hotel (Mayfield, NSW)
Saturday, 10 July 2021 7:00 pm
Join Melbourne-based, "emerging young hot shots" (Love Police Touring) Georgia State Line, as they celebrate the release of their new single 'Every Time' alongside Ben Leece and Left of the Dial + Marla.

"Of course, good music knows no boundaries, but not many capture that outsider Americana sound as well as Georgia State Line" – AMERICANA UK

Honest, agile, and refreshingly self-assured, Georgia State Line's unique brand of country-infused melancholy yields music that's equal parts heartsick and hopeful.

The stage moniker of Australian singer/songwriter Georgia Delves, her voice is effortlessly colourful, with a depth and grace to rival even the most revered of talents.

Recorded at Super Melody World in Macedon, VIC by James Cecil (Architecture In Helsinki) 2019, 'Every Time' features the GSL band and some of Australia's most celebrated Americana musicians: Tom Brooks, Laura Baxter and Patrick Wilson.

"It's a song about making friends with the consistency of change; acknowledging what isn't meant for you and celebrating the courage it takes to let it go. It highlights the quiet strength found in choosing to feel joy for what once was, and the power that comes with putting yourself first".

The group has toured extensively across the country, playing as part of Out On The Weekend, TCMF, and opening shows for Justin Townes Earle and Eilen Jewell (USA).

Every Time is lifted from Georgia State Line's highly anticipated new album due out later this year.